Shopping Cart
Your Cart is Empty
There was an error with PayPal
Click here to try again
Thank you for your business!
You should be receiving an order confirmation from Paypal shortly.
Exit Shopping Cart
Quality Craftsmanship Pride
George the Painter... Making Paint Stick for Over 15 Years
ProMar® 200 Zero VOC Interior Latex Paint Professional painters have it all with ProMar® 200 Zero VOC Interior Latex. It's the first complete professional line that not only has zero VOCs*, but is also available in four sheens and every color. All while delivering maximum productivity with outstanding durability and touch up.
SuperPaint® Exterior Acrylic Latex Paint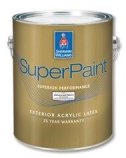 Count on SuperPaint Exterior Acrylic Latex to protect against the elements. Cold and frosty or hot and humid, this exterior acrylic latex paint goes on fast and provides excellent protection against mildew, fading and peeling. And thanks to its advanced acrylic resin formula, you'll enjoy superior adhesion and color retention that lasts and lasts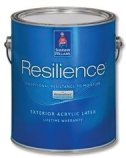 Resilience™ Exterior Acrylic Latex Paint
Don't let weather worries ruin your painting schedule. Resilience Exterior Acrylic Latex paint gives newly painted exteriors moisture resistance in half the time as conventional paints. So you don't have to postpone painting when the forecast calls for rain, or quit working early in the day because you're concerned about dew. And if you don't get around to painting the house until later in the season, don't worry. You can apply Resilience coatings in temperatures as low as 35°F.
/